Le Monde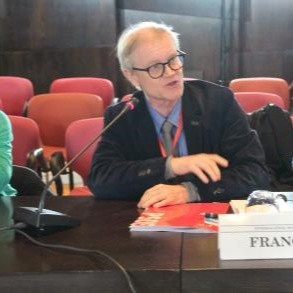 Dr. Marc Lavergne, Directeur de recherche CNRS, Moyen-Orient/Corne de l'Afrique, EMAM/Laboratoire CITERES, Université de Tours/France.

Le déplacement d'Emmanuel Macron en Afrique orientale peut paraître incongru, au regard des défis de l'heure en France et en Europe. Il est cependant l'expression d 'une prise de conscience des bouleversements en cours dans cette région du monde.
Djibouti est une escale obligée : l'implantation de la France dans ce « confetti » désolé ne se justifia que par son emplacement, à la fois à l'entrée de la mer Rouge, à la porte de l'Abyssinie et sur la route des possessions françaises de l'océan Indien et de l'Indochine ; d'où la prégnance du militaire dans la relation qui perdure jusqu'aujourd'hui, avec une base militaire qui évoque la nostalgie d'un passé révolu. Mais la France, qui avait rebaptisé tardivement la Côte française des Somalis en « Territoire français des Afars et des Issas », s'est reniée en livrant les clés du pays à des dirigeants qui. Règnent jusqu'aujourd'hui par le despotisme, la division ethnique et la concussion. Ce qui ne Luia pas permis de garder son monopole, et l'armée française a dû se résoudre au voisinage d'autres puissances, et en particulier les États-Unis et la Chine.
L'Éthiopie est la véritable cible du voyage : il s'agit de prendre la mesure des bouleversements en cours dans la Corne de l'Afrique. Celle-ci a en effet été le théâtre de la réconciliation générale des Frères ennemis de la Corne de l'Afrique l'an dernier : celle, cruciale, de l'Ethiopie et de l'Erythrée, mais aussi de l'Erythrée et de Djibouti, de l'Ethiopie et de la Somalie et de l'Érythrée et de la Somalie. Si le « réveil » de l'Éthiopie était patent depuis près d'une décennie avec son ouverture libérale, ses projets d'indépendance énergétique par l'hydroélectricité, c'est le soutien américain, relayé par les diplomaties et les finances de l'Arabie Saoudite et des Emirats Arabes Unis, qui ont permis cette accélération inattendue. La France en prend acte, mais on peut douter que l'exposition du savoir-faire français en matière de préservation du patrimoine suffise à lui conférer un rôle actif dans les changements à venir. Quant au Kenya, qui fut un pôle de stabilité de l'Afrique des Grands Lacs, aujourd'hui bien menacé par les clivages internes et les menaces de déstabilisation externes, il ne sera l'occasion que d'un obscur « sommet » consacré à environnement.
Même agrémenté de quelques contrats, ce voyage sera de peu de poids pour faire jeu égal avec les puissances qui développent des stratégies ambitieuses autour de la Corne de l'Afrique : la Chine d'abord, pour laquelle l'Éthiopie est à la fois un atelier pour ses industries de main d'œuvre à délocaliser et un tremplin vers l'Afrique dans le cadre de ses nouvelles Routes de la Soie. Depuis son débouché de Gawadar au Pakistan, la Chine avait misé sur l'axe Djibouti-Addis Abeba pour s'assurer le contrôle des échanges économiques de l'Ethiopie. Un chemin de fer électrique flambant neuf avait rangé aux oubliettes l'antique chemin de fer franco-éthiopien et elle avait même ouvert à Djibouti sa première base militaire à l'étranger. Mais les initiatives diplomatico-financières de l'été dernier ont brisé l'encerclement de l'Éthiopie et la Chine doit maintenant compter avec d'autres acteurs.
Les Émirats Arabes Unis seront sans doute les grands gagnants de ce tournant qu'ils ont largement impulsé : la bataille juridique qui a opposé la puissante Dubaï Port World au gouvernement djiboutien aboutit pour celui-ci et pour la Chine, qui le soutenait, au mieux, à une victoire à la Pyrrhus : les Émirats dépossédés de leur monopole se sont rabattus sur les pays voisins, aux frontières mêmes de Djibouti. L'Érythrée, état paria, leur a concédé le port d'Assab, appelé à redevenir le poumon de l'Éthiopie, et le Somaliland, état sécessionniste, leur a confié l'ancienne base soviétique de Berbéra, en partenariat avec le gouvernement éthiopien. D'autres facilités portuaires s'y ajoutent, de Bosaso au Puntland somalien jusqu'à Kismayo au Jubaland: un collier de points d'appui qui prolonge ceux du littoral yéménite sur le golfe d'Aden. La vision à long terme des enjeux de l'après-pétrole se traduit là en intelligence stratégique et tactique. Il s'agit pour les Emirats de passer d'un rôle de rentiers du pétrole à celui de puissance régionale incontournable, assurant demain sa sécurité alimentaire et son économie diversifiée grâce aux ressources du continent africain. Pour autant, les Émirats ne sont pas une Nouvelle Sparte : la stratégie déployée met la puissance au service de la paix et du développement et témoigne d'une grande habileté à se concilier avec celle de ses puissants voisins : sa projection maritime lointaine, qui vise à lui permettre d'échapper à l'enfermement d'un Golfe source de tensions et condamné au déclin, s'opère de concert avec les projections chinoises – mais aussi indiennes – dans la Corne de l'Afrique et au-delà. On peut voir là à l'œuvre l'antique sagesse d'un peuple de marins et de caravaniers qui depuis la plus haute antiquité ont sillonné ces mers et ces rivages, et appris à en maîtriser les atouts et les périls.
L'Éthiopie a la volonté de « porter son secteur manufacturier à 20 % de son PIB et à 50 % de ses exportations d'ici à 2025 »,
Région délaissée par les grandes puissances ? Ou bien intervention US > pvoir éthiopien. AS à la manoeuvre pour US, mais suivi par EAU.
France intérêts résiduels. Pdt réaliste, commis-voyageur, n'a en vue que la balance des paiements de Fr.> cherche potentiels d'investissement, mais san chercher à les crer.
Marchepied de Djibouti n'est plus qu'un relais vers la France d l'océan indien.
> Géopolitique d'une puissance moyenne en déclin, qui tente de sauvegarder acquis éd égrapiller miettes du gâteau Africain. La Chine, par exemple, a remplacé en un temps record le vénérable chemin de fer.
La relation sino-éthiopienne remonte aux temps de l'empereur Hailé Sélassié, souverain du seul pays d'Afrique à avoir échappé à la colonisation, et de la Chine de Mao, est désormais se loin le premier partenaire commercial de l'Éthiopie, qui peut lui servir de sas d'entrée sur le continent africain.er franco-éthiopien par une voie moderne, rapide et électrifiée reliant Djibouti et Addis Abeba.
Djibouti : anti Éthiopie sauvegarder pvoir discrédité et failli, qui manipule et humilie la France pls que l'inverse. Otage d'un pvoir contesté à l'intérieur et incapable à l'extérieur, mais nanti aujourd'hui d'assurances-vie avec bases qui s'empilent sur son territoire : ni unité ni prospérité.
Elimination de DP World, un contre effet avec l'arrivée au pvoir d'Abyi Ahmed et perte du monopole de la desserte de l'Ethiopie, un nouveau dragon Africain.
Juillet 2018 : Visite de Xi Jin Ping à AD pour BRI Afrique.
Dénonciation par Djibouti d ela concession du Doraleh Container Terminal (DCT) à DP World a finalement conduit entreprise à investir à Assab et Berbera. A été plus que compensé par investissement émirien des ports voisins > déploiement d'une ambition maritime et commerçante régionale. Juillet 2018 : rétablissement des relations entre Éthiopie Érythrée> accord de paix 16 septembre 2018 à Jiddah, et Erythrée Somalie. Accord de paix Erythrée Djibouti le lendemain 17 septembre 2018.
Compétition Arabie saoudite EAU : Arabie > Djibouti, EAU contre. DP World from Assab in Eritrea, to Djibouti, Berbera in Somaliland, Bosaso in the Puntland, Barawe in Somalia and Kismayo in southern Somalia/Juba land. On the other side of the Red Sea, in southern and western Yemen, the Emirati intervention against the Houthis and Al Qaida has created an opening for the UAE to develop its influence in local ports such as Mukalla, Bir'Ali, Balhaf, Aden, al-Mokha, and now Al Hodeidah.
Une nouvelle Sparte ?
EAU ont repris le flambeau des puissance smaritimes, de la Côte des Pirates : RAK, Sharjah, Dubai et maintenant AD. Mais différence, avec inscription dès l'espace, avec points d'appui et dimension régionale, différente de la cité-Etat globale. Refonte d ela carte régionale, en jouant sur solidarités et proximités historiques et géographiques. Question e frontières secondaire : peuples d'Arabie etd e,laCorne sont couins et la mer Rouge est une <méditerranée.
Facteur de paix : facilitation, cash diplomacy ? Ethiopie-Erythrée, reconnaissance de facto du Somaliland et du Puntland.
Habileté de la diplomatie EAU > accompagner BRI en jouant sa propre carte. Marginalisation de Djibouti, choisie comme point d'appui chinois.> concertation avec Chine, Djibouti Silk Road Station, la plus grande zone franche du continent, fruit d'un accord avec la Chine, n'a pas encore donné sa pleine mesure. Désormais porte d'entrée incontournable depuis l'achèvement, en octobre 2016, de la ligne ferroviaire électrifiée la reliant à l'Éthiopie (756 kilomètres) jeu de balance etd 'équilibre entre Chine et inde, ainsi que Pakistan. Prise en compte de Gawadar, articulation possible d'une puissance moyenne à ambition globale, avec Grandes puissances globales d'avenir.
> Passage d'une stratégie mondiale à une application régionale, à partir de la construction d'une Etat et d'une nation. Stratégie qui couple les axes N-S de l'océan indien à la mer rouge, à un axe est-ouest qui relie l'Asie à l'Afrique. Mais attention au principe de réalité qui consiste à bâtir l'avenir, pls difficile que de semer le chaos dans des sociétés plus fragiles (Sud Yémen).
Dimension stratégique pour l'après-pétrole, et déjà diversification économique d'un pays pauvre en hommes, compensation ua manque d'hommes et territoire, à l'enclavement dans le Golfe, prise de gages et sortie du vase clos du Golfe etd e ses ressources en hydrocarbures, et en tensions. Echapper au face à face mortifère avec l'Iran, une menace existentielle sur les dynatis du Golfe ; > Entrée dans la cour des grands en participant aux grands réajustements planterais.
Création d'une nation émirienne, par la mobilisation auour d'une ambition géostratégique. Choix d l'ouverture au monde, que ce soit culturellement avec la promotion e la tolérance, le renforcement de l'institution fédérale, centralisation, et à l'extérieur avec les ouvertures vers l'Asie, Chine et inde, Pakistan, et vers l'Afrique > recentrage et vocation régionale. Une stratégie œcuménique, de convergence et de pragmatisme.
Stratégie d epaix etd e prospérité, à travers la mise en valeur des ressources du continent africain,
mais jeu personnel, qui n'implique aucun mise ne cohérence ou en harmonie des différente sprjets économiques de la péninsule. Le CCG qui n'a pas dépassé le stade initial de bouclier anti-Iranien, n'a pas évolué vers une mise en synergie des économies régionales .
Sources :
https://www.jeuneafrique.com/627324/economie/djibouti-le-gouvernement-prend-le-controle-de-la-societe-doraleh-container-terminal/
https://www.jeuneafrique.com/736756/economie/signature-dun-accord-pour-la-construction-dun-gazoduc-entre-lethiopie-et-djibouti/
https://www.jeuneafrique.com/mag/661092/economie/logistique-djibouti-face-a-louverture-ethiopienne/
https://www.francetvinfo.fr/monde/afrique/djibouti/djibouti-la-zone-franche-de-la-discorde-entre-dubai-et-la-chine_3056573.html
http://afriquemagazine.com/ports-services-capital-humain-le-développement-en-3-d)