Lieutenant General (Retd). Giorgio Battisti, Senior Strategist, Former Commander Italian Army Training and Doctrine Command, Italian Republic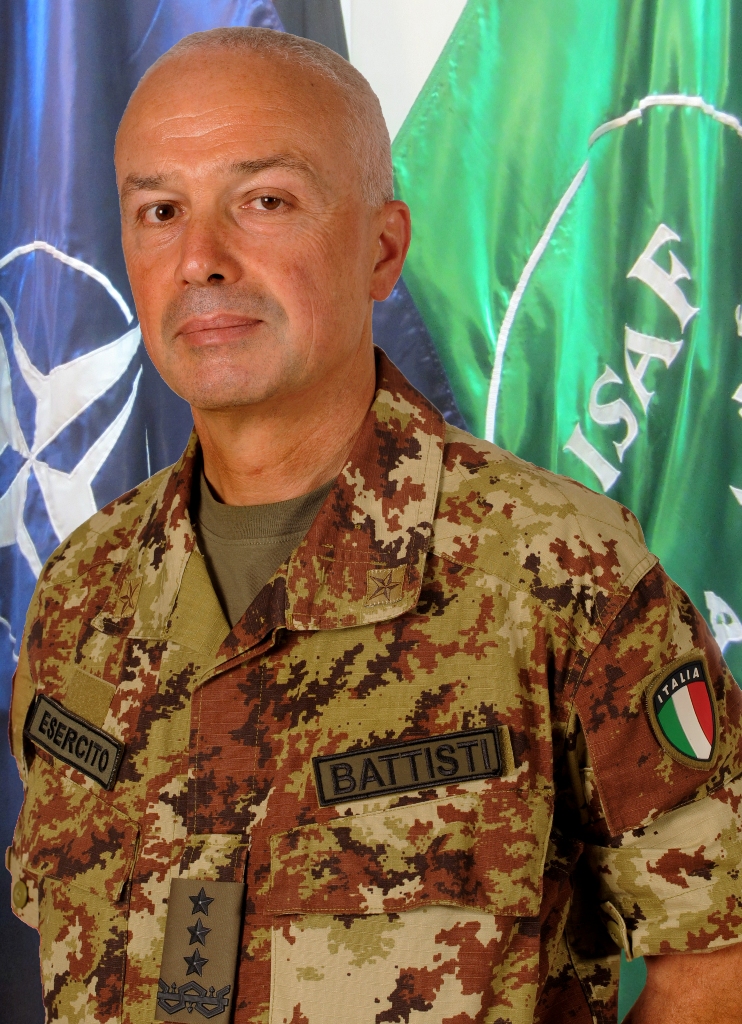 Lieutenant General Giorgio Battisti assumed duty as Commander Italian Army Training and Doctrine Command on August 25, 2015 after most recently serving as Inspector General of Army Infrastructures in Rome.
A native of Mantua, Italy, Lt.Gen. Battisti graduated and received his commission as mountain artillery officer at the Italian Military Academy in 1974. He has had multiple command and staff positions in Italy and abroad throughout last 41 years.
General Battisti has served in command and leadership positions from platoon through Corps and Army Command, including the 29th battery of the "Asiago" group, the 40th battery of the "Pinerolo" Group, the "Conegliano" Artillery Group, the Cadets' Regiment at the Military Academy, the "Taurinense" Alpini Brigade and the NATO Rapid Deployable Corps – Italy.
His operational deployments include the UN mission to Somalia in 1993 and Bosnia in 1997. In 2001, he was appointed as the first Commander of the Italian Contingent during the ISAF mission in Kabul. Lt.Gen. Battisti returned to Afghanistan three more times: in 2003, as Commander of the Italian mission "Nibbio", within the framework of Operation Enduring Freedom and the ISAF Mission; in 2007, as Deputy Chief of Staff Support at ISAF HQs; and in 2013-14 as ISAF HQs Chief of Staff.
Throughout his career he has held several Staff appointments, ranging from Head of the Italian Army OPS Room to Chief Current Ops to Head of the General Affairs Department at the Army General Staff, and from Chief of Staff at the Italian Operational Land Forces HQ in Verona to the Italian Army Official Spokesperson in Rome.
Lt.Gen. Battisti's education includes a degree as well as a 2nd level Master's degree in Strategic Studies from the University of Turin, the Command and Staff Course and Command and Staff Course General Course (War College).
He speaks French and English and is the author of various articles and books, including "Black feathers in Afghanistan" (2004) and "The Military History of Afghanistan" (2014).
Amongst his many distinctions he has twice received the Military Order of Italy for his outstanding service in Afghanistan (Knight's Cross for the ISAF Mission and Officer's Cross for the Operation Enduring Freedom). He was awarded the UN Medal and the Italian Cross for the Operation UNOSOM in Somalia and the US Bronze Star Medal for the Operation Enduring Freedom. He was awarded Commander of the Order of Merit of the Italian Republic and Officier de l'Ordre National du Mérite of the French Republic. Lt.Gen. Battisti has also received the French and Polish Commemorative Medal and the Spanish Distintivos de Operaciones de Mantenimiento de Paz for his ISAF deployments. In 2014, he was awarded the US Legion of Merit Medal for his exceptional service at ISAF HQs.