Samantha Newbery PhD, Lecturer, University of Salford, United Kingdom, Fellow Expert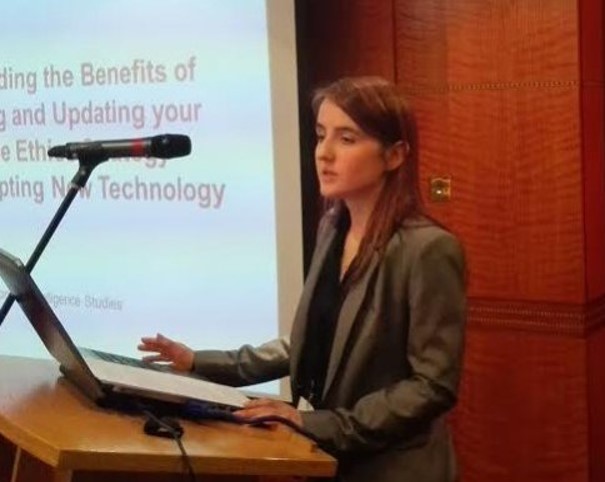 Dr Samantha Newbery
Lecturer in Contemporary Intelligence Studies
University of Salford
Email:  S.L.Newbery@salford.ac.uk
Dr Samantha Newbery is Lecturer in Contemporary Intelligence Studies at the University of Salford, Manchester, where she leads the MA in Terrorism and Security (part-time distance learning) and serves as International Lead for Journalism, Politics and Contemporary History.  She holds a PhD from the Department of History at Trinity College Dublin, and a Masters and a Bachelors from the Department of International Politics at the University of Wales, Aberystwyth.
Dr Newbery's research focuses on ethical issues raised by intelligence practices in counter-terrorism and counter-insurgency contexts.  Her 2015 book, Interrogation, Intelligence and Security: Controversial British Techniques asks how controversial interrogation techniques came to be used by British security forces in the then-colony of Aden (1963-7), Northern Ireland (1971) and Iraq (2003), as well as identifying the results of the use of these techniques.  Dr Newbery's current research examines the security forces' use of terrorist informers in Northern Ireland during the 1970s and 1980s.
Dr Newbery has presented her research at international conferences, including the British International Studies Association and the Political Studies Association of Ireland annual conferences.  She has also spoken by invitation at Oxford University, terrorist and at the Defence Academy of the United Kingdom.
Why Spy? The Art of Intelligence (Hurst, 2015) was co-authored with Brian Stewart CMG, a former Deputy Chief of the UK's Secret Intelligence Service (MI6).  The book launch was celebrated in the House of Commons in June 2015.
Dr Newbery is a member of the Oxford Intelligence Group, the Study Group on Intelligence and the Women's Security Society.
Publications
'Ireland v United Kingdom: The European Court of Human Rights and International Relations, 1971-1978', European Human Rights Law Review, 2017
'The UK, Interrogation and Iraq, 2003-8', Small Wars and Insurgencies, 27/5 (forthcoming, 2016)
In Mark Phythian (ed.), 'An INS special forum: The US Senate Select Committee Report on the CIA's detention and interrogation program', Intelligence and National Security, 31(1), Jan. 2016, pp.8-27.
Interrogation, Intelligence and Security: Controversial British Techniques (Manchester University Press, 2015)
Brian T.W. Stewart CMG & Samantha Newbery, Why Spy? The Art of Intelligence (Hurst, 2015)
James J. Walsh, Michael J. Glennon, Joseph Wippl, Eric Heinze, Tom Packer, Claudia Hillebrand, Samantha Newbery, Clodagh Harrington & Peter Bloom, 'Senate CIA torture report release: Expert reaction', The Conversation, 9 December 2014, https://theconversation.com/senate-cia-torture-report-release-expert-reaction-35276
'Hidden files on policing could change the definition of torture', 8 December 2014, The Conversation, https://theconversation.com/hidden-files-on-policing-could-change-the-definition-of-torture-34992
'Interrogation during "the troubles" in Northern Ireland, 1971-5', in Simona Tobia & Christopher Andrew (eds), Interrogation in War and Conflict: A Comparative and Interdisciplinary Analysis (Routledge, 2014), pp.209-26
'Terrorism, torture and intelligence', International Politics, 50(4), July 2013, pp.512-31
'The study of interrogation: A focus on torture, but what about intelligence?', in Christopher R. Moran & Christopher J. Murphy (eds), Intelligence Studies in Britain and the US: Historiography Since 1945 (Edinburgh University Press, 2013), pp.222-35
'Intelligence and controversial British interrogation techniques: The Northern Ireland case, 1971-2', Irish Studies in International Affairs, 20, Nov. 2009, pp.103-19
With Bob Brecher, Philippe Sands & Brian Stewart, 'Interrogation, intelligence and the issue of human rights', Intelligence and National Security, 24(5), Oct. 2009, pp.631-43
For more details about Dr. Samantha Newbery please follow the link: http://www.seek.salford.ac.uk/profiles/SNEWBERRY.jsp