William GUERAICHE, PhD, Associate Professor, American University in the Emirates, Dubai, (French)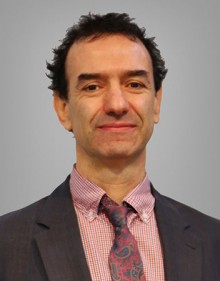 William GUERAICHE, PhD
Associate Professor, American University in the Emirates, Dubai, (French)
Email Address: william.gueraiche@aue.ae
EDUCATION
Habilitation à Diriger des Recherches (theD.R. is the final degree in the French system to become full professor and to supervise PhD) in Geopolitics, Sorbonne University (Paris IV), 2013.
D. in History (with honours and the congratulations of the Board), University of Toulouse, 1992.
Professor Agrégé of History (competitive examination which corresponds to the highest teaching qualification in France).
Two masters: History (Political History, Toulouse, 1989); Sociology and Anthropology of Politics (University of Paris VIII, 1990).
UNIVERSITY AND PROFESSIONAL EXPERIENCE
From August 2014 onwards, American University in the Emirates (Dubai), Associate professor
I have taught to the Emirati civil servants (Interior, MOFA, AD/Dubai Polices, Immigration) classes in the Master of Diplomacy and Master of Security and Strategic Studies
– Founder of Network of International Studies in the Emirates (NISE).
– Master supervision, PhD supervision (University of Toulon, France). Chair of International Relations and since August 2016, Associate Dean.
– Reviewers for many scientific journals, such as Journal of Arabian Studies, Intersections: Gender and Sexuality in Asia and the Pacific, Moussons, etc.
– Sorbonne University (Paris IV) Associate Researcher, 2002-2007.
From 2006 to June 2014, American University in Dubai (UAE), Adjunct, Assistant and Associate Professor of Social Sciences
From 1984 to 2004:
2003-2004:        Lecturer Geopolitics (Environment and Asia), University of Marne La Vallée, Paris (France)
1998-2001:        History Teacher (professeur agrégé), Eurocampus Manila (the Philippines)
1993- 1996:       Lecturer History, Sorbonne University (University of Paris I) (France)
BIBLIOGRAPHY
6 books, the last one:2017 – The UAE. Geopolitics. Modernity and Tradition, Tauris: London, 2017, 264 p.
More than 60 articles in total, on the Middle East and the UAE:– "Transnational Filipinos in the UAE: Actors and Strategies", Arabian Humanities, 2016-7. http://cy.revues.org/3153 DOI: 10.4000/cy.3153- "Information warfare in the Arab-Israeli conflict, the invisible battalion?" Revue de l'Université d'Oran 2 Mohamed Ben Ahmed, n° 1, December 2016, pp.147-160.

– Imagefare in the age of asymmetric warfare: anarchy or competing strategies? (in Arabic) Trends of Events, issue 18, July-October 2016, pp. 43-46.

– "The UAE and Iran: the different layers of a complex security issue", Iran in the World. President Rouhani's Foreign Policy", Palgrave-McMillan 2016, pp. 65-92.

– « The U.A.E. » « Oman » in Gildas, Simon (ed.), Dictionnaire géohistorique des migrations internationales dans le monde, Paris, Armand Colin, 2015, pp. 226-228, 282-284.

– ["Independence of the Emirates. British Outlook of the Power Struggles (1968-1971)"] « Décolonisation des Emirats. Regards britanniques sur les luttes d'influence et les enjeux de pouvoir (1967-1971) » in Décolonisation, les hommes de la transition, Paris, L'Harmattan, 2014, pp. 114-128.

– ["Higher Education in the UAE, between emiratisation and market constraints"] « L'enseignement supérieur aux EAU, entre émiratisation et contraintes du marché » Higher Education, Globalization and Power in the Arab World in Revue de la Méditerranée et des Monde Musulmans (REMMM), 2012, pp. 183-199.

– ["The Persic Gulf, a springboard between the UAE and Iran"] « Le golfe Persique, tremplin entre l'Iran et les ÉAU » in Outre-Terre L'Iran, le compte à rebours n° 28, 2011/2, pp. 419-426.

To be published:
– "The UAE-Tunisia diplomatic relations: a subtle balance between economy and security?" International Journal of Diplomacy and Economics, 2017.
– "The UAE and the Arab Spring, so far and so close" in Cenap Çakmak and Ali Onur Özçelik (eds.) Foreign Policy Analysis of the Arab Spring: How the International Community Responded to the Popular Uprisings in the Middle East? Palgrave-McMillan, 2018.