Pr. Marc Lavergne, Senior Fellow Researcher (Emeritus) on MENA & Horn of Africa at the French National Center for Scientific Research (French)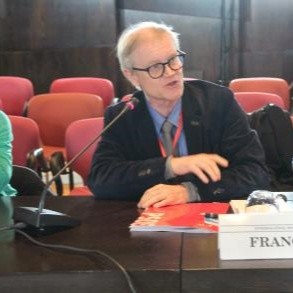 Professor. Marc Lavergne is a Senior Fellow Researcher (Emeritus) on the Geopolitics and Geostrategy of the Contemporary Middle East and Horn of Africa at the French National Center for Scientific Research.
Academic curriculum :
– BA in Modern Arabic (University of Paris-3, 1976) ;
– MA in Geography of Development (on the Qalamun Mountain villages in Syria, University of Paris-4, 1975)
– PhD thesis (on the consequences of the of Aswan High Dam in Egypt, University of Paris-7, 1980)
– Diploma of the Institute of Political Sciences, International Relations Section, Paris (1977).
Professional Career :
– Socio-economic expert, the Ministry of Agriculture and Water, Saudi Arabia, 1981
– Director, French Scientific Unit (CEDUST), University of Khartoum, and of the French Cultural Center , Khartoum, Sudan (1982-1987)
– Director, French Studies and Research Center on Contemporary Middle East (CERMOC), Beirut/Amman, (1988-1990)
– Fellow Researcher in Geopolitics at the National Center for Scientific Research :
• Center on Urban Development in the Arab World (URBAMA), University of Tours (1991-1999)
• Center for Comparative Ethnology and Sociology Asia/Africa/America, University of Paris-10 (2000-2004)
• Research and Studies Group on the Mediterranean and Middle East (GREMMO), University of Lyons-2 (2004-2008, 2012-2015)
– Director, French Studies and Documentation Center on Juridical, Economic and Social Sciences (CEDEJ), Cairo/Khartoum (2008-2011).
– Senior Research Fellow, National Center for Scientific Research, Arab and Mediterranean Studies dept, University of Tours (2011- present)
Field experience in Geopolitics and Geostrategy :
Exploratory ground missions and negociations as an International humanitarian NGO's adviser :
– Sudan, Southern Sudan, Eritrea, Central African Republic, Chad ;
– Egypt, Iraq, Lebanon, Jordan, Syria
Conflict Resolution's implementation and supervision :
– Humanitarian expert and Coordinator, Panel of Experts of the United Nations Security Council pursuant to Resolution 1591 on Darfur, 2006
– Legal and political Adviser, Joint Military Commission for the Implementation of the Cease-Fire Agreement in the Nuba Mountains/Southern Kordofan, Sudan, 2002
– International Observer, First Elections of the Legislative Council, Occupied Palestinian territories, 1996
Publications :
Pr Lavergne is a regular contributor and/or member of the editorial Board of specialized magazines and scientific reviews, such as The New African, Arabian Humanities, Questions internationales, Diplomatie, Le Monde diplomatique, Confluences Méditerranée, Les Conflits dans le Monde, Politique internationale…
He published or edited "Le Soudan contemporain" (1988), La Jordanie (1996), L'Oman contemporain (2002), "Le royaume hachémite d'Abdallah 1er à Abdallah 2" (2004), "Egypte, une société en quête d'avenir" (2012).