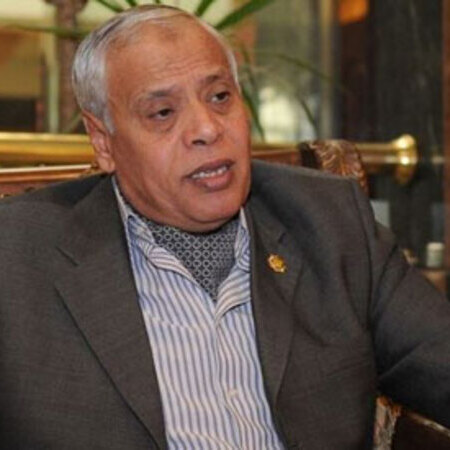 Major General (Ret). Hamdy Bekhiet
Advisor and Emeritus Professor (National Security & Strategic Defense) at Nasser's Higher Military Academy, Former Member of The Parliament of Egypt
Education
In Egypt:
Fellowship Degree*, Nasser's Higher Military Academy, 1998.
M.A* of Military Science, Command & Staff College, 1986.
Courses in National Military Strategy – Strategic and Operational Military planning – Crisis Management. (Long Paper on Evolutionary in Military Technology and it's Effect on Military Strategy.
Military Academy B.A. in Military Science 1972.
Additional Qualification:
In The USA:
(2) Advanced Courses in American Language (DLI in Lakeland AFB- San Antonio- Texas).
Airborne course (Fort Benning-Columbus Georgia ) . 1983
Special Forces Qualification Course (Fort Bragg – North Carolina). 1984
Strategic Intelligence Course (Boling AFB – Washington D.C). 1990
International fellows Program's Diploma (National Defense University – Fort Mc Nair – Washington D.C). 2001
Master's Degree in National Security Strategy (NDU – National War College –Fort Mc Nair Washington D.C). 2001
Courses: 
(Centers of Gravity in Military Strategy – Fundamentals of Statecraft – Fundamentals of Military Thoughts and Strategy – Nations in Transition: A Strategic Overview – The National Security Policy Process – Regional Studies Program: North America- The Geostrategic Context –South Asia: Defining U.S.A National Interest in a Complex Environment – Contemporary Middle East: Conflict and Competition – Military Strategy and Joint Operations).Notice: All Research Papers are graded (A). (Above Expectation)
Fellowship Degree, National Defense University, Washington D.C. 2001 – 2006
Awards
Awarded Paper in the National War College NDU about October War.
Medals and Decorations 1995 – 1997 Badge of Honor of The Republic
Medal of Excellence Military Service
The Medal of Military Duty ( First Class) October War 1973 The Medal of War Veterans – October War 1973
Teaching Experience
Commander of the Reconnaissance School (2 years)
Command and Staff College, Cairo.
Instructor – The Center of Crisis Management and Peacekeeping in Cairo (African Union)
Developed syllabus and overall course structure, and administered the first class.
Advisor to Nasser's Higher Military Academy.
Practiced all Command and Supervising Jobs in Reconnaissance and Intelligence from Lieutenant to Major General.
Director of Planning and Operations branch of a Department at the strategic level.
Peacekeeping Operations Experience
The chief of Peacekeeping Branch in The Liaison Organization in The Egyptian Armed Forces.
Participated in Establishing Cairo Center for Crisis Management and Peacekeeping. (African Union). Appointed as Deputy Commander of Sector Sarajevo in Bosnia and Herzegovina.
Crisis and Disasters Management.
The manager of Crisis Management center of The Egyptian Armed Forces (2 years).
Participated and Prepared Many International Conferences in Different Aspects (Arms Control – Peacekeeping – International Relations – Crisis Management – Workshops and Debates).
Researches and Studies
(13) Strategic research papers. (Crisis and Disasters Management – Military Strategy – National Security Policy in NESA – Nations In Transitions – Centers of Gravity). NDU ( 9 ) Strategic researches ( Water Crisis – Developing The Concepts of Crisis and Disasters Management Methodology – African Strategic Affairs – Middle East Contexts – Command and Control Automation – Advanced Military Technology and Modern Combat Theories).Supervising and Revising (39) Researches:
Civilian experience
Director of Central Department of Planning in The Maritime Sector in Egypt at Ministry of Transport (one Year), (2005 -2006)
Former Member of the Parliament of Egypt (2015 – 2020)
Former Member of Defense and National Security Committee for 2 years.
Former Member of Foreign Affairs Committee for one year.
Former Member of African Affairs Committee for 2 years.
Contact
h1k2h3.new@gmail.com
———————————————————-
* The Fellowship Degree has been approved as PhD equivalent of Security & Defense Studies by the Supreme Council of Universities of Egypt on 22nd of November 2015.
* The (Master of Military Science) from General C&SC of Egypt has been approved as MSc of Military Science by the Supreme Council of Universities of Egypt on 22nd of November 2015.
Last updated, March 2021