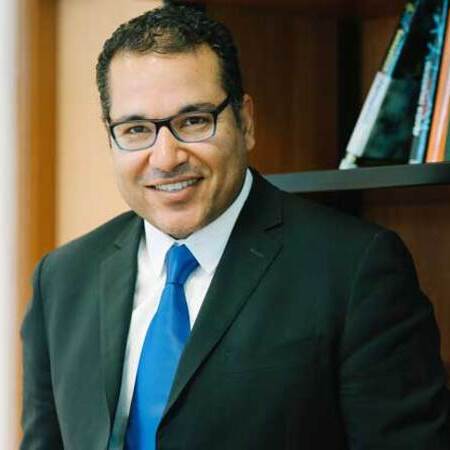 Prof. Sameh S. Ali
Global Health Security Expert – Head of the Research Unit – Oncology – Children's Cancer Hospital 57357, Cairo (Egyptian)
Prof. Sameh S. Ali is interested in experimental studies to understand prevailing health problems in Egypt and their interactions with the environment and socioeconomic local and regional statuses. He is currently the Head of Tumor Biology Program at Children's Cancer Hospital Egypt-57357 (CCHE). CCHE is virtually the world's largest pediatric oncology hospital and provides services completely free of charge to more than 40% of all Egyptian children with cancer. The cutting-edge health and social care provided to CCHE patients and their families without financially burdening the government provides an exemplary model regionally and internationally.

Prof. Ali is also a member in the National Committee for Biochemistry and Molecular Biology and in the National Academy of Sciences' Panel of Experts in Arts and Sciences.

Prof. Ali was the Founding Director of the Center for Aging and Associated Diseases, Helmy Institute of Medical Sciences, Zewail City of Science and Technology. He was also a Professor of Biophysics at Zewail City.

Prof. Ali obtained his M.Sc. and Ph.D. Degrees from Tohoku University (ranked # 70 on the world, 2017). He spent 3 years as a postdoctoral fellow in the Technical University, Graz (ranked in the top 300, 2017) and Washington University in St. Louis (ranked # 18, 2017).

He returned to Egypt from the University of California in San Diego (ranked in the top 20, 2017) June 2012 to participate in the establishment of Egypt's National Project. Dr. Ali left the University of California as an Associate Professor in the Department of Anesthesiology (July 2017).

His work produced over 60 highly cited articles in high-impact journals including Science, Proceedings of the National Academy of Sciences, Aging Cells, Antioxidant and Redox Signaling, FASEB J, J Neurosciences, Free Radical Biology and Medicine, J of Clinical Investigations, J of Biological Chemistry, J of Physiology, Neurobiology of Aging, etc. His work also contributed to the production of two U.S. Patents on carboxyfullerenes as neuroprotective agents.

Prof. Ali acts as an Executive Editor, Editor, and regular reviewer for tens of internationally reputed journals including Cancer Research, British J. of Pharmacology, J. Biological Chemistry, etc.

He has a strong track-record of securing intra- and extramural funds collectively exceeding U.S. $ 5 million over the past 10 years.