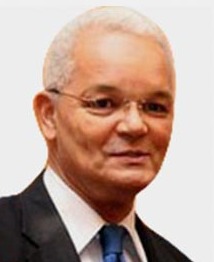 Egyptian Diplomat – Ambassador (retd) Served in the Egyptian Diplomatic Corps within the Egyptian Ministry of Foreign Affairs and held several high-profile positions including:
Assistant Foreign Minister for International Legal Affairs
Egypt's Ambassador to the People's Republic of China (PRC) and Mongolia
Egypt's Consul General in New York to the United States of America
Diplomatic member of Egypt's permanent mission to the European headquarters of the United Nations and the International Atomic Energy Agency (IAEA)
Diplomatic member of the Egyptian embassies in New Zealand, Tanzania, Austria, and India
Represented Egypt in the following:
China-Africa Cooperation Forum (FOCAC) (Acted as the main African coordinator of the ministerial conference in 2009)
Two sessions of Summer "Davos" International Economic Forum (in Dalian and Tianjin, China)
Palestinian Refugees Committee under Middle East multilateral peace talks
Multilateral Peace Observers Forces (MOF) in Sinai (acted as liaison officer)
National Committee for the Implementation of the UN Convention on the Law of the Sea (acted as Chairperson during tenure as Assistant Foreign Minister for International Legal Affairs)
Asian-African Legal Consultative Committee in India
African Union (formerly OAU) Liberation in Tanzania
Post-Diplomatic Career
Researcher, writer, and media commentator on current affairs with a focus on Chinese and Asian politics, cultures, and modern history. Gave lectures and participated in seminars and television interviews. Published articles in major news outlets in Egypt and China.
Held or currently holding the following posts and memberships:
Member of Egyptian Council for Foreign Affairs
Member of the Arab League Ambassadors Council in Beijing, China
Member of Egyptian International Law Association
National Representative to Euro-Mediterranean Transport Cooperation Committee (until 2019)
Advisor of Ministers of Transport (Cabinet Ministers) for International Cooperation (2009-2019)
Participated in the following conferences:
Understanding China Conference (2021)
Chinese Arab Conference on Security in the Middle East (2019)
The first summit of the Belt & Road Initiative (2017)
International Conference on Chinese Studies (2012)
Euro-Med Transport Conferences (co-chaired by the European Commission and the Union for the Mediterranean)
China-Africa Cooperation Forum (FOCAC) Summit (2006)