Russia continues to deploy troops from Russia's central and eastern regions to its western border and to Belarus, and to maintain troops near Ukraine's border to put pressure on Ukraine and the West to regain full control of Ukraine and split the EU and NATO.
At present, 67 battalion tactical groups are on combat readiness near the Ukrainian borders, nine more than in the previous week, of which 34 were deployed on a permanent basis, from 8th Army and the Black Sea Fleet of the Southern Military District and 20th Army of the Western Military District, 33 – additionally.
The total number of Russian groups in the Ukrainian direction is about 136 thousand servicemen.
Combat training activities for Russian units are being carried out near the Ukrainian border.
The military group accumulated near the Ukrainian border of the Russian Federation is insufficient to carry out a large-scale armed aggression against Ukraine. The Armed Forces of Ukraine are ready to take action to protect Ukrainian territory and the Ukrainian population.
Recognizing the difficulty of conducting a successful large-scale offensive military operation against Ukraine, Russia is also focusing on destabilizing Ukraine's internal situation.
At the same time, propaganda and disinformation in the Russian media (Sputnik, Russia Today) remain key tools of Russia's aggression against Ukraine, the EU and NATO.
Russia has intensified cyber-attacks on government agencies and critical infrastructure of Ukraine.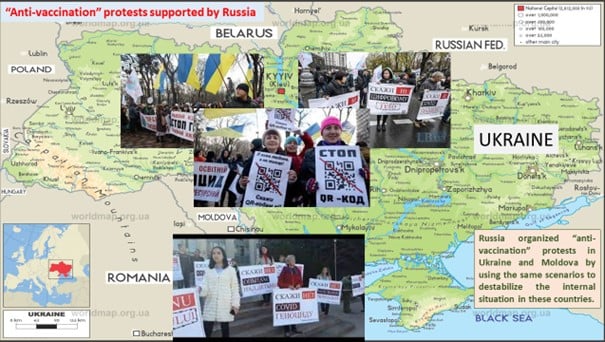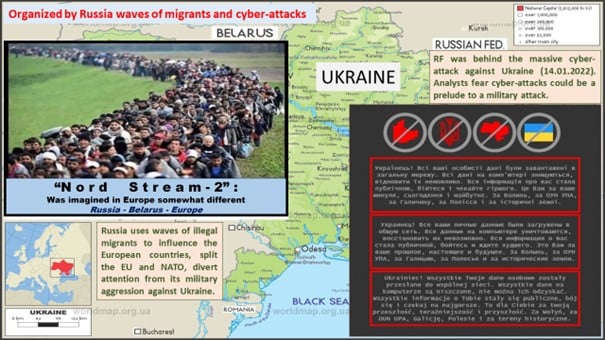 My Comment:
Since the spring of 2021, Russia has maintained a significant build-up of forces near Ukraine's borders, which it uses mainly to pressure the West, targeting the Ukrainian interior in an attempt to undermine economic conditions and stir up internal divisions and fears.
Current assessments see that assuming a scenario for an inclusive Russian invasion has become impossible. Diplomatic approaches can succeed and reduce the level of the current escalation, as negotiations are currently taking place very intensively. The Russian forces concentrating towards Ukraine are enough to put political and media pressure on Kiev, but not enough to launch a n inclusive attack.
According to what Ukraine declares, the Ukrainian armed forces have changed radically since 2014. Any attempt by Russia to invade its neighbor Ukraine will face a bigger force than it has been for more than seven years. Therefore, Ukraine believes that Russia will suffer greater losses compared to the losses of the war in 2104/2015. On the other hand, the Ukrainian society is made up of hundreds of thousands of veterans with combat experience, and millions of patriots who will confront any possible attempt of Russian attack against Ukraine. It is from the premise that Ukraine is an independent state with clear motives, and I claim that the Russian authorities are aware of this as well as the magnitude of the political challenges and the economic situation that it will face after its military operation against Ukraine, which is why Russia is participating in the negotiations.
Although Ukraine considers itself ready for confrontation, I believe that confronting the Russian forces alone, even within a limited operation, will be very difficult for Ukraine. But obviously a Russian attack on Ukraine will inevitably lead to Russia's human and economic losses in addition to isolating Russia internationally.
Bearing in mind the Chinese stand toward the crisis, despite its declaration to support its strategic partner against the Western camp including the U.S. and NATO, China knows that the U.S. and NATO will not intervene militarily to confront Russia in case of invading Ukraine. On the other hand, Russia and the West know that China will not intervene militarily to support Russia with its forces in case the U.S. and NATO decided to intervene militarily against Russia.
Sayed Ghoneim, Major General (Ret) of the Egyptian Armed Forces
PhD in Political Science – Fellow, Nasser's Higher Military Academy
Chairman, IGSDA
===========
Sources:
– Open sources.
– Private sources.