Experts say chances of an immediate conflict have reduced drastically, but the risk of future flare-ups is still high.
The National Newspaper, January 9 , 2020
By: Daniel Sanderson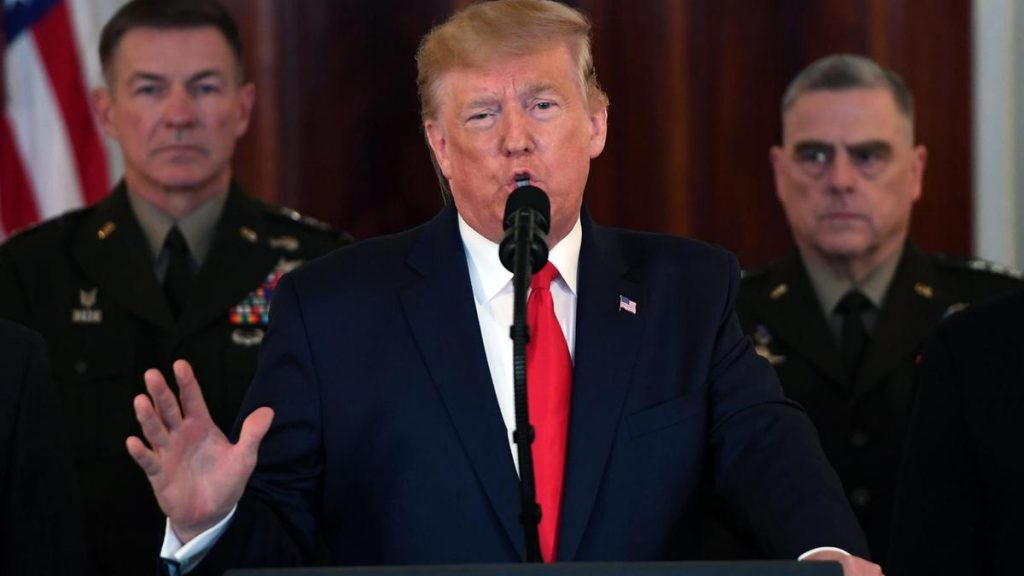 UAE residents are entitled to be relieved at the easing of a crisis between the US and Iran, experts have said.
Analysts admitted that there has been "panic" among some residents following the assassination of Iran's elite forces commander Qassem Suleimani, as Tehran threatened a response that many feared could spiral into a full-blown conflict.
However, missile strikes on Iraqi bases housing US troops on Wednesday, which caused no injuries, and US President Donald Trump's claim that Tehran had "stood down", has been seen as a sign that both sides are keen to avoid a war.
"We think the risk of a full blown conflict has subsided but the tensions will remain high," Sorana Parvulescu, a Dubai-based senior partner at Control Risks consultancy company, said.
"I don't think we are going to see a direct military confrontation between the Americans and Iranians in the next weeks, maybe months, but we still expect attacks of a lower scale in Iraq and maybe Syria which could lead to another flare-up. I have told clients this is not over, that they have to keep monitoring the situation."
She said "quite a few" UAE-based clients had sought advice about safety, with staff worried about the implications for them. However, she said the advice issued had not changed and that she did not believe residents faced an increased risk.
"I think a lot of it was driven by some alarmist media coverage in Western countries," she said. "Our take has been that there hasn't been a change in risk exposure for countries in the [Arab] Gulf. Generally speaking there is no risk to civilians in urban centres and we haven't changed our advice."
The US has said it knew the attacks were coming in advance through early-warning systems that "worked", Mr Trump said. There have also been claims that the US were tipped off by Iraqis that the missile attacks were coming.
A theory that the action had been deliberately chosen to save face but prevent a further escalation was backed by Sayed Ghoneim, a former general in the Egyptian Military, now chairman of the Institute for Global Security and Defence Affairs think tank based in Abu Dhabi.
He said he did not believe Iran wanted a war, due to the state of its economy, while Mr Trump would fear chaos that would result even if he won a conflict and the implications for his re-election campaign.
"Let me call it as 'unsigned agreement'," he said. "The Americans knew Iran had to avenge [Suleimani] but they did something that would not force the US to act very aggressively.
"Iran claimed 80 Americans have been killed, the Americans said no one was injured, but it lets them make these statements.
"I'm not saying it was a conspiracy or some agreement between them with phone calls and faxes, but it is an understanding that they can do this and there will be nothing further."
With an immediate crisis apparently over for now, attention should turn to finding a long-term solution to the stand-off, April Alley, deputy programme director for the Middle East and North Africa at the International Crisis Group, which works to avoid conflicts, said.
While Mr Trump did not threaten further military action in his White House statement on Wednesday, he did promise further sanctions against Tehran and the route to resolution remains unclear.
On Thursday, Iran rejected a US offer of talks "without preconditions" to de-escalate tensions between the two nations.
"Both sides demonstrated once again that they do not want a full-fledged shooting war," Dr Alley said. "Now we have a moment of pause, but how long this will last is unclear.
"The status quo is not sustainable and is prone to a slide into military conflict absent a political solution.
"What is needed is concrete de-escalation and talks towards an agreement that returns Iran to compliance with the nuclear deal and addresses Tehran's ballistic missile programme and actions through proxies in the region in exchange for US sanctions relief."
"Apart from such an agreement, the US may also have to draw down its troop presence in Iraq, which could be a win-win for both Iran and the Trump administration."
Dr Alley said that while the policy of "maximum pressure" was applied to Iran, it would continue to have a reason to threaten further escalation and it was possible that further action would be taken, potentially through proxies.
She added: "All Arab Gulf states, including the UAE, have a vested interest in avoiding a costly war between Iran and the US in the region. They are on the front lines, have much to lose, and as such have been calling for de-escalation.
"But avoiding a potential slide into war requires more than temporary de-escalation. Concerted third party mediation is needed to bridge the gap and strike a political deal that is workable for both sides."
Updated: January 9, 2020 08:35 PM