By: Sayed Ghoneim
Turkish parliament approves bill to deploy troops in Qatar
WORLD NEWS | Wed Jun 7, 2017 | 1:04pm EDT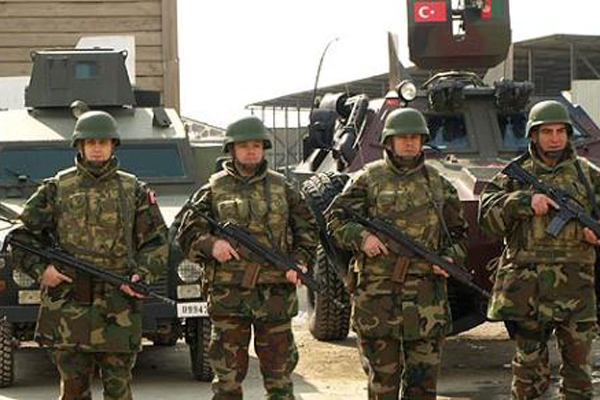 The news seems surprising as if Erdogan sends his troops to declare war on the villains! In fact, it is an old story, and Reuters knows it very well.
I think we should remember the next:
In July 2002, Qatar and Turkey signed an agreement which involved cooperation in military training and arms sales.

The agreement was signed in 2014 and ratified by the Turkish Parliament in June 2015. The base is expected to be completed in two years. According to Ambassador Demirok, air and naval units, military trainers, special operations forces as well as 3,000 ground troops will be stationed at the Turkish military base base. However, the reasons behind this military agreement have not been officially explained, therefore raising suspicions in Turkey over whether Turkish military personnel stationed in Qatar would help train Syrian opposition groups.

Early December 2015, during Erdoğan visit to Qatar, Prince Tamim bin Hamad and Tayyip Erdoğan announced the planned creation of a Turkish military in Qatar; a first for Turkey in the Persian Gulf. Accordingly, Turkey's Ambassador to Qatar Ahmet Demirok declared that the establishment of the base was part of a broader defence agreement between the two countries to help them confront "common enemies." According to Eyup Ersoy, a Gulf politics expert teaching at Bilkent University, the military base exemplifies Turkey and Qatar's willingness to overcome their strategic isolation in the region.

What is currently being completed is merely an update of the terms of the Turkish / Qatari military agreement in accordance with the time-frame established, and perhaps it does not need to pass legislation in the Turkish Parliament, as it has already been ratified.
In fact Erdogan addresses two categories:
First, the Arabs; sending a message saying, "I am a police officer of the region and I do not hesitate to support my allies. The second is the international community, saying " Turkey and Qatar are implementing their agreement plan. I did not go beyond the international law. However, the United States indicated earlier it may shift or withdraw its military base from Qatar".
Russia's declaration of food aid to Qatar releasing its suffers because of cutting diplomatic relations by its its neighbors, where no state has stated or even commends the declaration of war or the use of military forces in any form against Qatar.
==============================================
As usual Erdogan, fishing in the turbid waters, acting as a policeman moving as he wishes, relying on the Arab's "fish memory", strengthening hope of his supporters, including Muslim Brotherhood.