Mohamed El-Guindy participated in UNESCO International Conference Media and Information Literacy for Building Culture of Open Government (6-10 June 2016).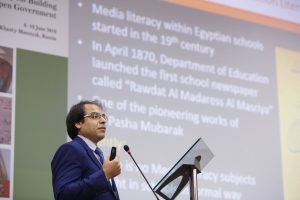 El-Guindy represented Egypt in the international conference organized by Government of the Khanty-Mansiysk Autonomous Okrug – Ugra Commission of the Russian Federation for UNESCO UNESCO / UNESCO Information for All Programme Federal Agency for Press and Mass Communications Russian Committee for the UNESCO Information for All Programme Interregional Library Cooperation Centre.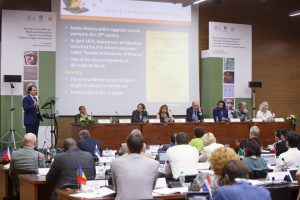 The conference attracted attention of both major international experts and public authorities of many countries. More than half of 110 participants were nominated by their respective governments. The conference gathered leading scientists, academia, politicians, diplomatic officials, government, civil society and private sector representatives from almost 50 countries – Albania, Andorra, Argentina, Armenia, Azerbaijan, Benin, Brazil, China, Colombia, Czech Republic, Democratic Republic of the Congo, Egypt, Finland, France, Haiti, Honduras, Hungary, India, Iran, Israel, Italy, Kazakhstan, Kenya, Kyrgyzstan, Latvia, Lebanon, Macedonia, Mexico, Moldova, Morocco, the Netherlands, Nigeria, Norway, Palau, Palestine, Paraguay, Peru, the Philippines, Romania, Russia, Senegal, South Africa, Thailand, Uzbekistan, Venezuela, Vietnam, Zimbabwe.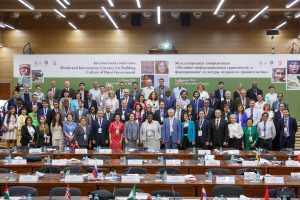 The Conference four key goals included:
developing and advancing UNESCO's international policy in the field of media and information literacy promotion with regard to the problem of building open governments;
defining conceptual framework of creating an open government culture;
identifying and retranslating international experience of open governments functioning;
enabling the adaptation of media and information literacy curricula/education programmes to the tasks of building open governments
For more details, click to download conference agenda
More details about the conference: http://www.ifapcom.ru/en/news/1590/?returnto=0&n=1