"This ribbon cutting will be a momentous occasion initiating a series of Hub-related conferences and events  during the next year. These will include  further outreach to establish NATO and Non-NATO entity relationships, a large scale event to mark the Hub's achievement of full capability, and workshops to build and foster new relationships with Non-NATO entities"
US Navy Admiral Michelle Howard (U.S. Navy), Commander, Allied Joint Force Command Naples stated on 04th of August 2017.
04th of August 2017; by: NATO JFC HQ
NATO Joint Force Command (JFC), Naples, Italy has declared the historical ceremony of the ribbon cutting opening the NATO Strategic Direction "South Hub" to be held on Tuesday, 5th of September 2017.
Admiral Howard has requested all NATO entities, strategic partner states and  Non-NATO entities to participate in the historic ceremony sending their representatives as invitees  to the ceremony. The Institute for Global Security & Defence Affairs (IGSDA) has been invited to participate in ribbon-cutting ceremony as one of the Non-NATO entities; Gen. Sayed Ghoneim will attend ribbon-cutting ceremony as "Chairman, IGSDA"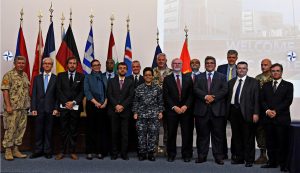 Establishment of NATO Strategic Direction, South (NSD-S) – Hub
On 15 February, 2017 NATO's Secretary General Jens Stoltenberg announced the decision to create the Hub at Joint Force Command (JFC) Naples. This was followed by a formal directive from the Commander of the Supreme Allied Command Europe to "establish a Hub, within the NATO Command Structure to collect, collate, analyse and disseminate information in order to contribute to NATO's comprehensive understanding, situational awareness, decision making and information sharing for the South during peacetime, crisis and conflict." JFC Naples continues to further define the Hub's mission, roles, responsibilities and resources and will declare the Hub at initial capability in September, and full capability near the beginning of 2018.
Southern Hub is deeply rooted in Article 2 of the NATO Charter. The Hub will promote conditions of stability and well-being by facilitating a better understanding of the principles upon which NATO was founded.